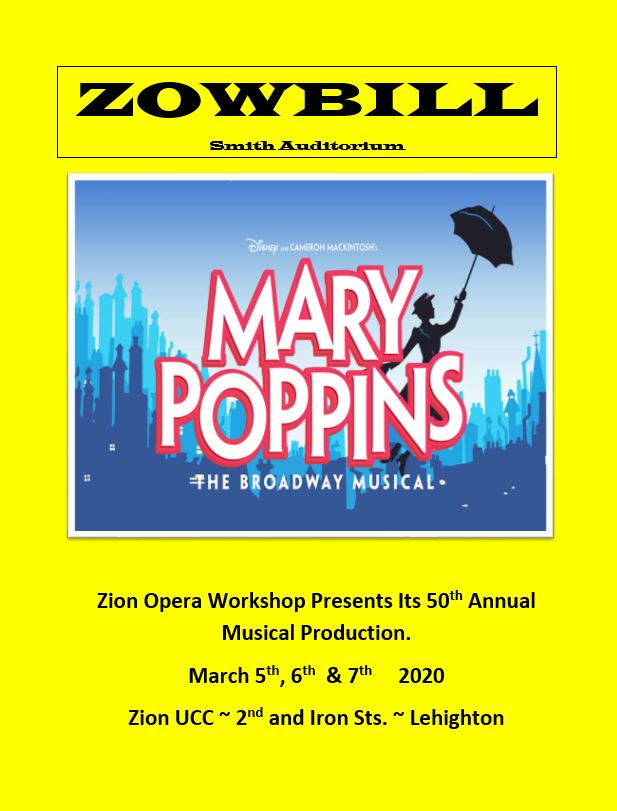 Zion Opera workshop, the longest running community theater group in Carbon County will be presenting its 50th anniversary show on March 5th, 6th and 7th at 7:30 PM with a matinee performance on the 7th at 2:00 PM. With the desire to present a new show for the 50th year, ZOW directors have chosen a Disney favorite, Mary Poppins for this special presentation.

Zion opera workshop got its start back in 1970 when Zion's long time music director and local music educator Paul R. Smith and his wife Linnea decided to put on a musical because at the time, musicals were not being presented at Lehighton High School. The response received was well beyond what they could have imagined and the group continues to grow today and includes both high school students as well as adults.

The musical version of Mary Poppins includes all of your favorite songs from the wildly popular Disney movie but also adds in some beautiful new songs! The lead role of Mary Poppins is being played by Laura Reichard of Lehighton. This is her second leading role in a ZOW musical but she has been featured in many supporting roles over the years and is also a director of the recently formed ZOW Junior which was created for younger thespians.

Mr. and Mrs. Banks, the mother and father of Jane and Michael Banks are played by ZOW veteran performers Brandon Cressley and Amy Shelly who have appeared in various supporting roles with ZOW before. Jane and Michael are played by ZOW Junior members Mylee Hauser and Aidan Wowk. The part of Bert which was made famous by Dick Van Dyke is being portrayed by ZOW veteran Zach Sessock who has appeared in both lead and supporting roles with the group over the past several years.

Mrs. Brill, who is a housekeeper in the Banks house is played by Karen Serfass who appeared with ZOW in the 1980s and has returned to the stage a few years ago! She is partnered with ZOW veteran Dylan Coffin who appears as Robertson Ay, a lovable yet somewhat bumbling servant boy. Katie Nana, the well-known Banks servant will be played by long time member Casi Reichard.

The musical version adds two characters that are not present in the Disney Movie version. They include Miss Andrew who was George Banks' former nannie who comes back to take care of the Banks children. Otherwise known as the Holy Terror, she is played by ZOW newcomer Danette Gower. Also new to the musical version is Mrs. Corry, a colorful shop owner played by Lizzie Rief who is also new to ZOW's stage this year.

Admiral Boom who was also featured in the movie version will be played by long-time ZOW actor Noah Smith. Eliza Asmann, who has appeared in many ZOW shows will be featured as neighbor lady Miss Lark. Veteran ZOW member Parker Fairchild will appear as the Bank Chairman. Tina Becker, a long time ZOW member will appear as Miss Smythe.
The iconic role of the Birdwoman from the original movie will be played by Tara Crowe who has starred in both lead and supporting roles with ZOW. Rounding out the cast is newcomer Thomas McGinley as John Northbrook as well as ZOW veterans Aidan Malloy as the Park Keeper, Logan Kester as the Police Man and Nicholas Hrusovsky as VonHussler,
In the musical version, the toys in Jane and Michael's nursery come to life. Those toys are all played by returning ZOW members including Becky Herd as Valentine, Bethany Evans as the Ballerina, Kylee Kresge as Mr.Punch, and Emily Shelly as the Tin Soldier.
Park statues that magically come to life include Nelius played by ZOW returnee John DeMatte who is joined by Hannah Smith as Queen Victoria. Olivia Erickson, who has appeared in both ZOW and ZOW Junior will appear as Fanny, one of Mrs. Corry's daughters.
Chimney Sweeps, Bankers and Townspeople include veteran actors Martha Cox, Heather Brown, Dorothy Getz, Cincera Rehrig, Logan Kester, Felicia-Sue Anthony and Susan Eremus as well as Hunter Andreas (a ZOW Junior alum) and newcomer to the stage, Laura Foeller.
Children of the town include Allison Foeller, Kate Newsted, Abby Ehrig, Claire Foeller, Emily DeFuso and Lily Andreas.
Stage-Director Jessica Schafer will not only direct actors but will also appear as various roles throughout the show.
Deb Strausberger, owner of TNT Dance of Lehighton is once again acting as the groups choreographer as she has for the past several years, creating and teaching the cast the dance sequences.
Technical Directors Pati and Duane Reichard will once again design, create and build all of the set pieces, creating rooms, outdoor scenes and roof tops as well as creating the Mary Poppins "magic".
The show will be presented with live music provided by musicians from Northeastern Pennsylvania. Lisa Schweitzer of Lehighton will once again act as rehearsal pianist and will join the orchestra for performances as well.
Zion Opera Workshop is under the direction of Zion UCC's director of music, Bradly R. Cressley.
The show is the "kick-off" for ZOW's 50th anniversary year. Plans for other events through the year are underway including a reunion of former members. Additionally, each night of the performance during announcements, former members of ZOW in the audience will be asked to stand and be recognized for their past participation with the group.
Tickets are available from any cast member or at Carbon County Music and More, 115 S. 2nd St. Lehighton. For more information on tickets call 610-392-1810.